The next series in Choosing Peace—Grieving—comes in late summer of 2017.
Rest
In many ways, The Healing Journey to escape from sociopaths is like major surgery. Something cancerous and very dangerous was in your life that needed to be literally cut out.
If you've ever experienced major surgery, you know that the recovery process takes time—sometimes, a long time. You're experiencing pain along the way and a great deal of fatigue while your body is working hard to sew itself back together. You have to take a break from some of the normal everyday things you used to do.
Why so tired?
In a similar way, you've probably found yourself feeling physically and emotionally tired during and after this intense chapter of your life. You've experienced, studied and learned about very painful subjects; you've rethought who you are, where you've been and what choices you've made; and you've made major life changes. This learning, evaluating and changing has required a great deal of effort—mental, emotional and spiritual effort. On top of that, your sleep patterns have probably been erratic due to the stress, not to mention the push-back and drama from the sociopaths and their accomplices.
Proper focus
Cut unnecessary things out of your life so you can continue to focus on The Healing Journey and so you can get the extra rest and sleep you need. Some projects and some of your housework won't get the attention they usually receive. That's okay.
Focus on your healing, resting and sleeping.
Know that the time will come when you'll start to experience your New Normal. And that sure feels good.
You may find yourself redefining and/or establishing new boundaries in other relationships too, so you're focusing your time and energy on the relationships that matter the most. I've done this in my life in the last month. I'm feeling relieved and I'm sleeping much better.
Pray about all these things, with a focus on thanking God for the many good things in your life.
The new threesome
Soon after I published the final post in this Choosing Peace series about sociopaths, I noticed the healing impact of three important things.
1. From nicknames to no names
First, our use of nicknames changed drastically from the beginning of this journey to where we are now a year later. We started calling my mother-in-law Her Majesty, the Sadistic Control Freak last summer. After a time, we started calling her You know who or just Her. As time has passed, as we've healed and as we've become more and more detached from her and from the whole sociopathic family system, we refer to her and my sociopathic father-in-law less and less personally.
These examples from my journal may sound familiar.
April 1: Brandon referred to his parents as "those two people" and Logan referred to them as "you know who."
April 8: Brandon and I had a conversation about Easter and his parents without mentioning them at all. I asked him if he'd received an invitation to Easter and he said "Yes, in a text last week." These invitations—I mean summonses—come from his mother. I didn't need to mention her. I asked him if he was planning to reply. He said "No." I said "Good."
April 10: Brandon referred to his dad in conversation by saying "I was raised by a person who…."
This change—this emotional and behavioral detaching—happened very naturally. It was automatic. You may find the same thing happening in your circumstances.
This detaching feels really good, kind of like a thick scab falling off on its own from what was once a very painful injury. (I had a friend who called scabs God's Band-Aid®.  I like that.)
2. More anger letters
Less than a week after I published the final post about sociopaths, I wrote my anger letter to Brandon.
First and foremost
Why did I choose that anger letter before the other ones I needed to write? Well, I could see that Brandon had really changed. Sadly, I knew that I wasn't fully experiencing or benefiting from the new-and-improved Brandon because I was still angry about who he used to be and the things he used to do. Since my ongoing relationship with Brandon is vastly more important than my relationships with any of the other people I needed to write anger letters to, I chose to write to Brandon first.
Did I show Brandon this letter? No. Will I show it to him later? No. I didn't write the anger letter to hurt Brandon. I wrote it to help myself. The purpose of anger letters is to get things out of our minds and bodies so they don't interfere with today's peace.
Did it work? You betcha. Immediately.
Movin' right along
I woke up very early on Palm Sunday, so I wrote my anger letter to my sister Pam, given my recent, unexpected encounters with The Narcissistic Nightmare. After I finished that anger letter, I fell back to sleep and had an amazing Closure Dream about her. TBTG! Maybe I'll write about that colorful chapter someday. We'll see….
The next day I told Logan about the healing power of anger letters and how I wrote one to his Aunt Pam that week. He listened attentively and said he might like to read it sometime. I replied "Can do." I also talked to him about forgiveness—what it is and what it isn't. We'll cover the topic of forgiveness in a future series on Choosing Peace.
3. New beginnings
In another natural, healing step that symbolized our new beginning, Brandon and I both felt compelled to plant things. I felt driven to plant my new flower garden across the front of our house and Brandon needed to plant our new fruit trees in our back yard.
I didn't consciously think I need to do something fresh and new to bring a special joy into this new beginning. But on some level, I knew that I needed to do it. The day after I published the last post in this series, I planted my flower garden.
Neglecting vs. participating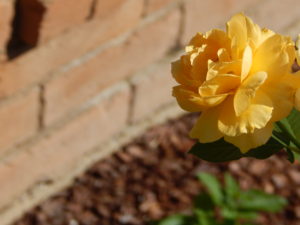 Through the years, our bushes had become overgrown messes, and our flower beds were neglected and filled with weeds—a poetic analogy for our sick relationships. Brandon and Logan pulled out all of our overgrown bushes for me, and I yanked the weeds out. When I went to the plant store, I found beautiful flowers and bushes that I'd never planted before. My favorite surprise was a yellow double-bloom rose bush—my favorite flower in my favorite color—and the roses smell wonderful. (To me, an unscented rose isn't worth having.) On Mother's Day, we sat on our front porch to eat lunch so I could enjoy my beautiful flowers. They bring me joy every day as I leave our home and return home.
Earlier this year, Brandon planted two plum trees. On April 15, he bought and planted two nectarine trees. The next day—Easter—we ate lunch in our back yard so we could enjoy our new fruit trees.
We both feel a sweeter connection with nature. Maybe, since we aren't dealing with so much emotional upheaval (i.e., sociopaths), we're free to participate in the beauty that's all around us.
Dovey
You may find yourself noticing things that you didn't see before… and finding joy in new life. As we look outside our kitchen window—the window we can now see out of, thanks to the removal of The Sociopathic Presence there—we're delighting in Dovey, a beautiful light-brown dove who built her nest in our ornamental tree. Every time I look out that window, I look for Dovey. Mostly, she sits quietly and is very still in her nest, I suspect to protect her eggs. We've watched her take a stance against some playful squirrels and do lots of everyday things. The other day, Dovey's husband hopped on our window sill with a long twig in his mouth that he took to Dovey for their nest. Sweet. Seeing her is a happy part of each day.
Your turn
Have you started doing something new, healthy and/or creative as you move into a new phase of The Healing Journey? If not, I highly recommend it. Do you need to spend more quality time with your loved ones? Is it time to reconnect with a wonderful friend?
Here are some ideas of Something New…:
♦ Plant and nurture something.
♦ Read something wholesome, not scary or political (e.g., Jan Karon's Mitford series).
♦ Write wholesome poetry, fiction, non-fiction, short-stories, plays, music, etc.
♦ Paint, draw, sketch or color.
♦ Sing, dance, make music.
♦ Take a fun class.
♦ Start a hobby (or take up an old hobby) with your hands, like pottery, woodworking, carpentry, puzzles, playing an instrument, knitting, crocheting, needlepoint, cross-stitching, sewing, cooking, baking, flower arranging, etc.
♦ Use a website to put together a photo book that celebrates a special relationship, trip or season in your life, or the beauty of nature.
Let me know your ideas for Something New to do at the end of a very challenging road of The Healing Journey. I'd love to hear what's helped you.
Reply to this post or send me an email at blog.frankieann@yahoo.com.
Coming later this summer: The next series on Choosing Peace will be about grieving.
Until next time, Peaceful Readers….
Every good gift and every perfect gift is from above,
coming down from the Father of lights….
James 1:17a, New Heart English Bible
 God bless you and those who are good to you.
Frankie Ann