Frankie Ann's faves
When we talked on the phone the other day, our 20-year-old son Logan told me some of his generation's fun slang expressions. I asked him to text them to me so I could pass them on to my Peaceful Readers. Here you go.
A new take on an old language
The title of Logan's list cracks me up.
Slang for Mother
Gas: good; usually refers to food
Bussin: good
Cap: that's a lie
Cappin: lying
No cap: that's the truth
Straight: used to emphasize
♦  shortened form of straight up
♦  straight cappin, straight bussin, etc.
Straight up: emphasizes more
Lit: cool/upbeat
My eyes are buggin' out of my head. Golly. I'm not sure if I can remember those expressions, but they sure are fun.
Top 12
Today on Choosing Peace you'll read about my 12 favorite scriptures.
God's word is straight up bussin. No cap.
Ha! How did I do? Now I'm really cracking up.
Funny and sweet
If you think there's nothing funny in the Bible, picture the scene of Balaam and his donkey. Here's an article with more Bible humor. (I'm shaking my head and smiling.)
I guess it's time to shift from the funny stuff to the sweet stuff: Frankie Ann's Faves. Speaking of sweet, I've been enjoying Peanut M&Ms at work, thanks to my friend Sam. I hide them in Christopher's Cabinet so I don't go berserko and make myself sick. Self-control is a virtue—and a Fruit of The Spirit. I digress. Happy sigh.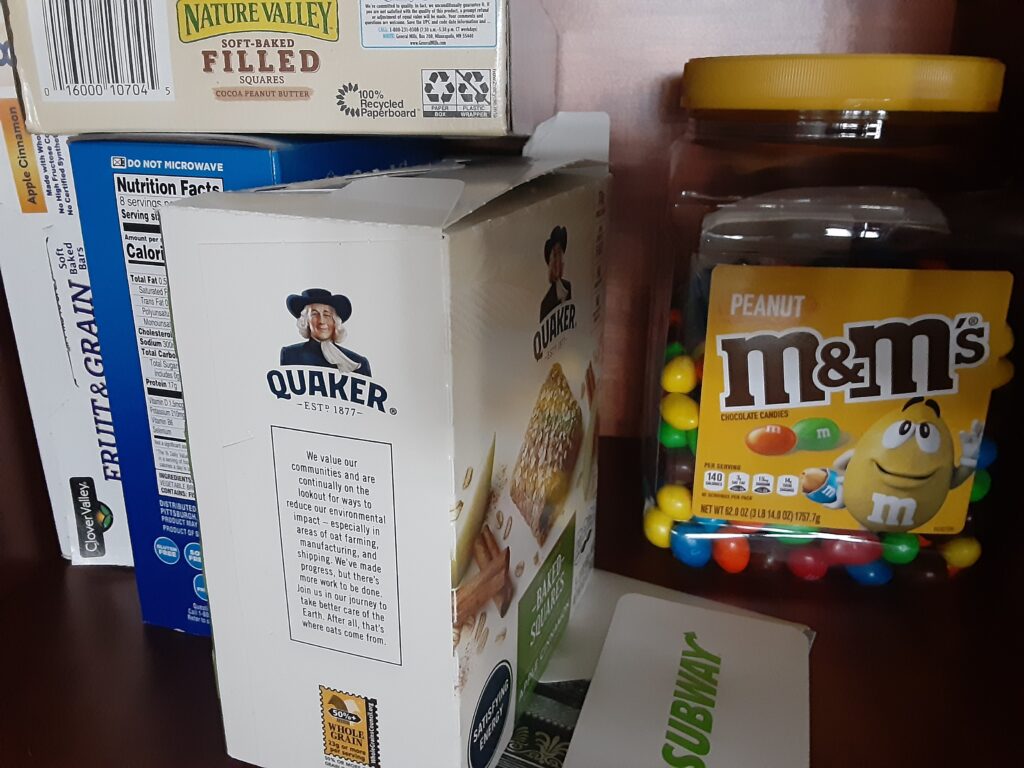 God's word
Last week while I was working at St. Matt's, I read a prayer that reminds me of the authority, the beauty and the impact of God's word. You'll find the prayer—called a collect [pronounced kol-ekt]—near the top of this wonderful article by David Smith.
Alive and well
Have there been times in your life when a Bible verse or passage seemed to speak directly to you in your circumstances? In your needs? In your questions? I've experienced the alive-ness of God's word so many times. You'll read about some of those experiences today. Powerful truths comfort me and strengthen me. Sometimes the words pierce my heart—convicting me of sin. Waking me up to what I need to do—or stop doing.
For the word of God is living, and active, and sharper than any two-edged sword, and piercing even to the dividing of soul and spirit, of both joints and marrow, and is able to discern the thoughts and intentions of the heart.
Hebrews 4:12, New Heart English Bible
God's word shines the light of truth in dark places. It discerns my silent thoughts and intentions.
Deep and wide
God's word can be a microscope and a telescope. The Bible shows us the depths of ourselves—sometimes unseen or unacknowledged realities—and it teaches us about God, faith and life.

My 12 favorite scriptures

When I open my Bible, it often falls open to one of these 12 places. Some of them have bookmarks. I hope my favorite Bible verses and passages speak to you today and bless you richly.
The one-two-three puzzle

One ~ God's greatness
Let's start with my all-time favorite Bible verse.
Great is the Lord, and greatly to be praised….
Psalm 145:3a, King James Version
I think and say this verse a lot. It floats around in my mind. It's always there. Always true.
The song
My favorite verse reminds me of a song we sang at our church preschool. For three years, Logan and I went to preschool together on Tuesdays and Thursdays. The last two years, I was down the hall teaching some adorable two-year-olds. His first year, I was his music teacher and I led chapel. What a joyful experience to look at a room filled with little children and to hear them—and watch them—sing "Good Morning to You!" and more.
If you don't know "My God Is So Big," I hope you'll listen to it and think about the ending—deeply.
Do you?
Do you believe the ending of that song? Do you pray like you believe it?
Sometimes a sweet children's song reminds us of the biggest, most important things.
Two ~ Right time, right place
Logan's senior verse from CCA's Rhetoric School comes next.
"Who knows if you haven't come to the kingdom for such a time as this?"
Esther 4:14b, New Heart English Bible
If you're familiar with the story of Esther, you know why Esther's relative Mordecai asked her this question. It represented the turning point in an amazing series of events. A turning point in Esther's life and a turning point for the nation of Israel.
The bookmark
During one of our Someone Cares retreats, Cynthia gave me a beautiful scripture card. I put it in my Bible at Esther 4:14b. To read about our sisterhood and our rescue squad, see this thought-provoking post. I wrote about Cynthia in September when she gave me something to look forward to—my birthday lunch. Thank you, sweet Cynthia.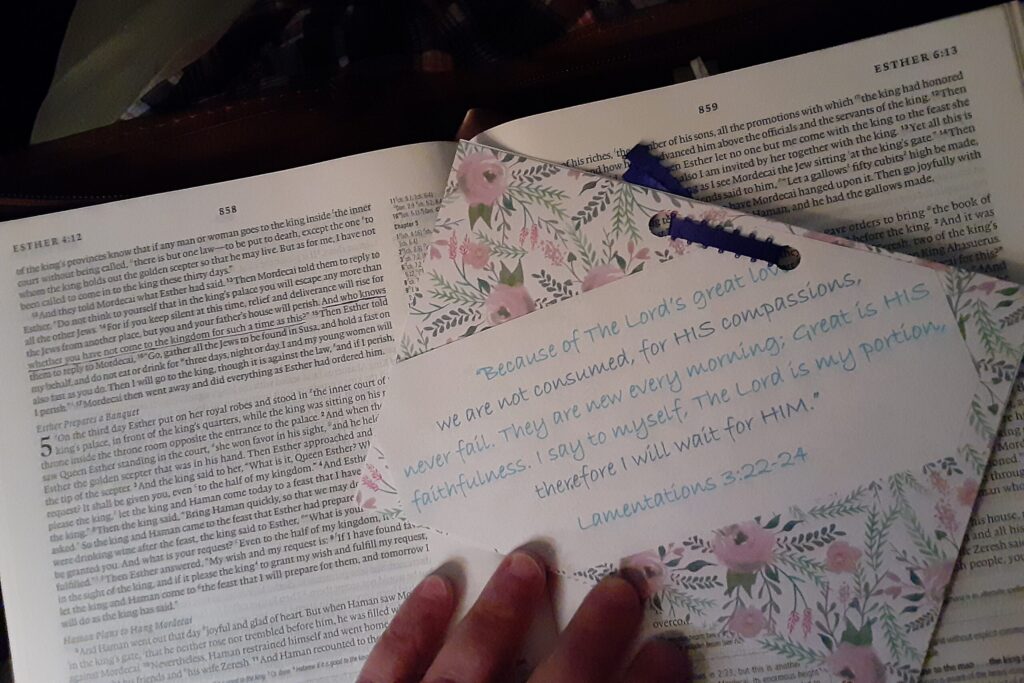 The sister passage
I also love Acts 17:26-28, a sister passage to Esther 4:14b. It tells us clearly that we were each chosen for this time and this place. And it tells us why we're here—to seek and find God.
For more scriptures about why we're here, enjoy The Big Why, part 5, one of my favorites.
Three ~ Because he cares
My mom listed the next verse, 1 Peter 5:7, as one of her favorites in Reflections from a Mother's Heart, the book she filled out for us when Logan was little. I read it 15 years later when she was put on hospice care. Thanks, Mom! Better late than never. That goes for both of us.
Read the section called The Verse and the Prayer in this post from the first series to see how I live out 1 Peter 5:7.
The puzzle
When you put together these first three verses, you get Frankie Ann's One-Two-Three Puzzle. The first verse, Psalm 145:3a—described beautifully in that fun preschool song—tells us God is so big. The second verse, Esther 4:14b, tells us we're here for a purpose—right here, right now. That answers a lot of big "why" questions. Dig into some of my big questions and answers in The Big Why, part 8.
And the third piece of my One-Two-Three Puzzle tells us what to do when we're in trouble­­­­­. And why. Thrust your worries onto God. He wants to carry those burdens for you because he cares for you. Deeply. Heavy burdens for me are never heavy for God because "My God Is So Big."
The Lord's protection

Four ~ The good shepherd
This passage from the gospel of John speaks to me about the tender love, care and protection of our Savior, Jesus Christ.
For more about The Good Shepherd, watch this remarkable short film.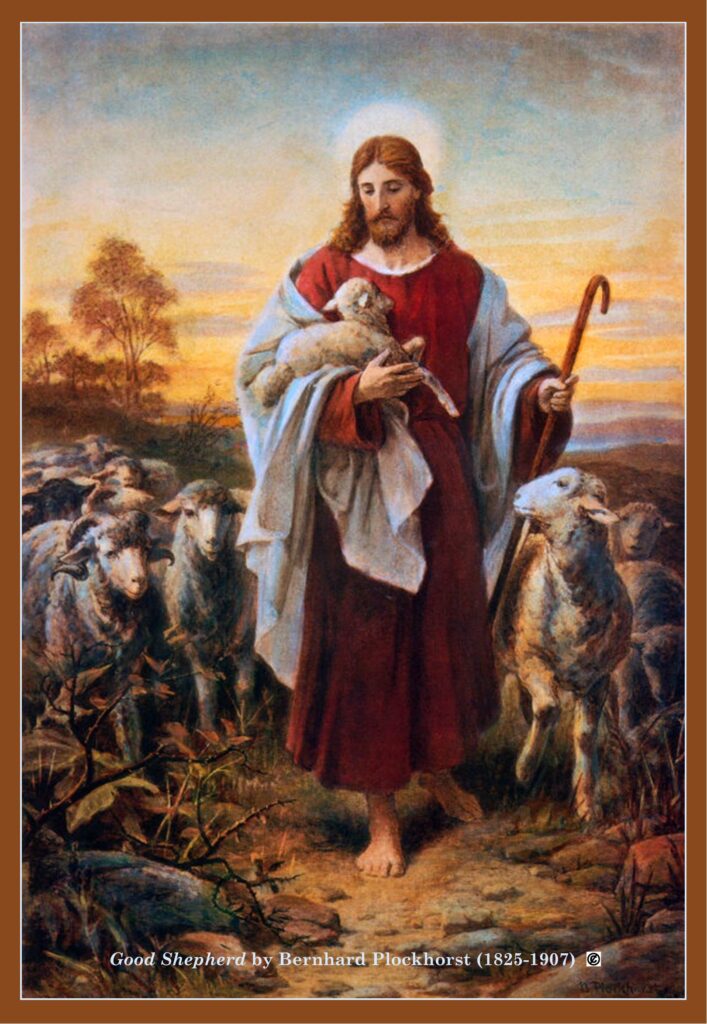 Five ~ The protection psalm
Next on my Top 12 list? Psalm 91—The Protection Psalm. I've written about this psalm a number of times and about the amazing book by Peggy Joyce Ruth. I recite Psalm 91 every morning and it gives me peace for my day. To read about my two Psalm 91 dreams and what they taught me, check out When the Need to Forgive Has Been Hidden, part 4.
Psalm 91 reminds me that I'm in God's hands. He protects me. He stopped an 18-wheeler for me. (See the Miracles section on the home page or in the index.) When I say—or sing—"My God Is So Big," I'm not kidding.
Six ~ Selections from the book of Micah
What does God want from us? This next verse gives a beautiful, concise answer.
He has shown you, O man, what is good. What does the LORD require of you, but to act justly, to love mercy, and to walk humbly with your God?
Micah 6:8, New Heart English Bible
If you'd like to dig into the daily realities of mercy, explore this post.
Micah 6:8 is well-known and routinely quoted—and rightly so. Peaceful Readers, I'd like to share three additional treasures from this Old Testament prophet. What do they tell us? The Lord gathers us. He leads us. He teaches us. Jesus, our good shepherd, protects us.
The remnant
On August 24, Logan's first day of classes his sophomore year of college, I marked these two verses in my Bible and underlined the phrase about gathering the remnant.
Taught by the Lord
Five days later, I marked Micah 4:2a-b.
And many nations shall come, and say, Come, and let us go up to the mountain of the Lord, and to the house of the God of Jacob; and he will teach us of his ways, and we will walk in his paths….
Micah 4:2a-6, King James Version
Jesus, our shepherd
And then, two days later…
He shall stand, and shall shepherd in the strength of the LORD, in the majesty of the name of the LORD his God: and they will live, for then he will be great to the farthest parts of the earth.
Micah 5:4, New Heart English Bible
Knowing
My next two favorites help me remember crucial things: Who Jesus is—at his core; and who I am because of him.
Seven ~ The heart of Jesus
You may remember the photo—in The Holy Spirit, part 1—of the cross-stitch that hangs in our house. Remember? The cross-stitch I made before I became a Christian? Jesus was calling….
"Come to me, all you who labor and are heavily burdened, and I will give you rest. Take my yoke upon you, and learn from me, for I am gentle and humble in heart; and you will find rest for your souls. For my yoke is easy, and my burden is light."
Matthew 11:28-30, New Heart English Bible
I'm still reading Gentle and Lowly by Dane Ortlund about the heart of Jesus. It's a gem.
If you could use some encouragement today, read about the Helper—one of the names for The Holy Spirit—in that recent post.
Eight ~ Who I am
Peaceful Readers, drink in the beauty of these three excerpts from Romans 8—the powerhouse chapter of the Bible. (Scroll down between each passage.)
I've quoted from Romans 8 several times on Choosing Peace. My favorite time was in The Post-Trauma Transformation, part 3. "I felt the victory. I still feel it." If you need strength, I highly recommend that post. It includes a rockin' section called The Conquerors and four powerful truths.
The final four
Nine ~ My favorite psalm
Let's begin the Final Four with my favorite Psalm.
Six years ago, while Brandon and I were separated, Psalm 27 grabbed my heart and strengthened me mightily. God did miracles for us during my 12 days at Camp Charlene. He sure did. And we were changed.
Enjoy "Psalm 27 (One Thing)" by Shane & Shane.
Ten ~ My favorite prayer
The beautiful, powerful prayer in Ephesians 3:14-21 is my favorite prayer in the Bible. It ends like this:
Now to him who is able to do exceedingly abundantly above all that we ask or think, according to the power that works in us, to him be the glory in the church and in Christ Jesus to all generations forever and ever. Amen.
Ephesians 3:20-21, New Heart English Bible
In the last post, I wrote about the power of written prayers. Will you read Ephesians 3:14-21 out loud and make it your prayer today?
Eleven ~ The key
I ended The Holy Spirit, part 5 with Philippians 4:4-9, one of my all-time favorite Bible passages, plus the song "Peace." What was the subtitle for that post? Ever Near. I also featured and wrote about this passage in the first series. Let's do a little rewind and repeat from this post about propaganda and Bubba Goes Shopping.
Today's scripture is one of my two favorite passages. To me, it gives the key to the peaceful Christian life, despite the storms you're facing. What we think about drives our hearts and our lives. Remember that God is near, and think on these things….
What was my other favorite passage back then? The prayer above. Number 10. Come to think of it, I think the passage below has moved into that Top 2 spot along with Philippians 4:4-9.
Twelve ~ My God and his word
Now we're ready for the last of Frankie Ann's Faves—Isaiah 55:8-11. Without further ado.
"For my thoughts are not your thoughts, neither are your ways my ways," says the LORD. "For as the heavens are higher than the earth, so are my ways higher than your ways, and my thoughts than your thoughts.
"For as the rain comes down and the snow from the sky, and doesn't return there, but waters the earth, and makes it bring forth and bud, and gives seed to the sower and bread to the eater; so shall my word be that goes forth out of my mouth: it shall not return to me void, but it shall accomplish that which I please, and it shall prosper in the thing I sent it to do."
Isaiah 55:8-11, New Heart English Bible
The circle
This amazing passage from Isaiah brings us full circle—back to my favorite verse and the very first verse I quoted in today's post, in Alive and Well. My God is so big. His word—the Bible—is alive and active. It lives, it breathes new life into people and it moves us. God's word will accomplish his purposes.
It will.
And that, Peaceful Readers, helps us to see…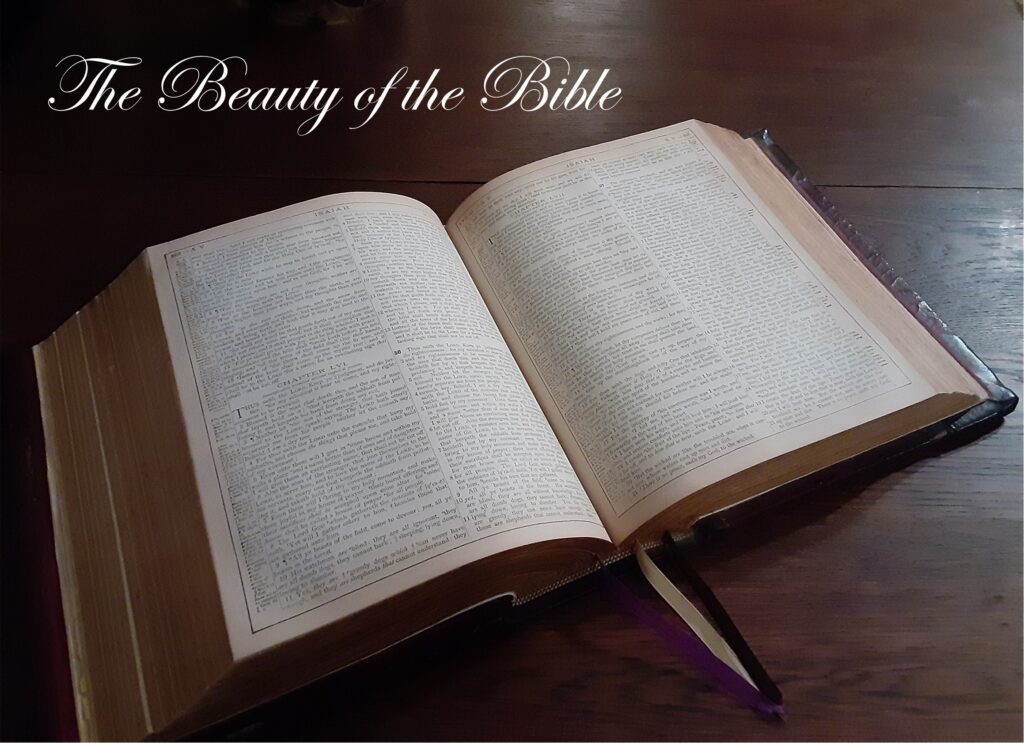 Seeking and finding
Since it's December and we're thinking about Christmas, I decided to search BibleGateway.com for the word gift. I also searched for one of my favorite Christmas songs. And that's exactly what I found—great gifts—in the word and music. Be still and experience the scripture and the song below.
Coming next: We'll explore my 12 favorite events in the Bible. Sorry, peeps. Balaam and his donkey didn't make the cut. You understand.
I hope your December is filled with laughter, wonder and peace. Until next time, thanks for reading and for Choosing Peace.
Blessed by truth and music
Peaceful Readers, I'm deeply blessed by God's word and music. I hope the scripture and song that I share at the end of each post will bless you too.
Truth from The Word: Ephesians 4:1-8
Song: What a glorious rendition and a striking video: "O Come, Emmanuel" by Simon Khorolskiy. His bio makes me smile. Enjoy.