by Frankie Ann Smythe
On my way to work on Tuesday, God reached down and saved my life. Again.
The shift and the brakes
While I was driving in the fast lane, I saw blinking lights and stopped vehicles ahead. A group of cars (including me) shifted simultaneously into the center lane. I saw the 18-wheeler behind me and knew he'd have to slow down big-time. Then the cars in front of me slammed on their brakes, so I did too. I barely missed the black bumper of the SUV in front of me.
Then I saw the 18-wheeler right behind me in my rear view mirror. He was coming fast. He couldn't stop in time. There was no way.
Slow motion
Everything started moving in slow motion. I realized immediately that this was it. One thought went through my mind.
I'm going to Glory. Right here. Right now.
I didn't even have time to brace my body for the impact….
Moving
I saw the cars ahead of me starting to move and I did too. Whoa. What just happened? He was going to smash me—and the cars ahead of me—to bits. I was a little confused. Then I realized what happened.
God stopped that 18-wheeler right before impact.
I couldn't seem to wrap my mind around the fact that I was moving. Untouched. Not a scratch.
When I looked back in my rear view mirror, I saw the 18-wheeler. He was totally stopped—Frozen on the Freeway—while cars whizzed by him on both sides. I wondered what he was thinking and feeling.
Reaching down
The devil gave me A Date with Death on Tuesday. But God Almighty—The Protector and The Giver—had something else in mind. He canceled my appointment. He reached down and stopped death.
I'm praying that God gave us a two-for-one that morning—saving my life and saving the truck driver's soul.
My favorite Bible verse is a very fitting celebration.
Great is the Lord, and greatly to be praised….
Psalm 145:3a, King James Version
Seeing and crying
Here's the funny thing. When I drove past the blinking lights and the stopped vehicles, they weren't in the fast lane at all. They were on the shoulder. We had all seen the roadblock wrong.
Or had we?
That day at work, I felt totally exhausted, like something had sucked the life out of me. All I wanted to do was go to sleep. I closed my eyes and kneeled at the altar rail in the sanctuary at St. Matt's, the church where I work, and I thanked God. I sure did. "Thank you, Lord Jesus. Thank you. Thank you. Thank you…."
After I got home, I told Brandon the whole thing. As I was telling him, I started crying. It was so intense. He was blown away.
Eating and thinking
Going to bed early was not an option. We drove across town to Logan's last soccer game that night. Eating my favorite fast-food comfort food on the way to the game helped to revive me a little—Braum's fried chicken and bacon sandwich. It's their number 8. Plus the fries. Plus a vanilla shake. Now don't lecture me on the dangers of fried food and sugar. I know all that stuff. Man, it was good. It was so good.
As we sat watching the soccer game, a harsh, cold wind blew at our backs. I was protected—bundled up in my cold-weather best, with my legs inside an arctic sleeping bag. (That's a soccer season How-to-Stay-Toasty-Warm secret.) But I had a hard time focusing on the game. My thoughts kept going to that morning's miracle… while the bright lights across the field sparkled into a blur.
Asking
The next day at my chiropractor's office, I asked him if God ever saved his life. Yes, indeed. He told me a rockin' story about a chain-saw blade. Wow.
He also explained the exhaustion that came after the miracle. Adrenaline rush—the fight-or-flight hormone. My back was all tight from that. Who knew? He worked on my back and I felt better. Thanks be to God.
When things like this happen, people often ask why. Why me? I've learned the answer to that one.
Because God wasn't done with me yet. And he is the one who has numbered my days.
Praise God, from whom all blessings flow.
Thanking
The next night, I turned off the lights and got down on my knees in front of our fireplace. I leaned on the hearth, closed my eyes and thanked the Lord—again—for saving my life. I heard the sounds of the fire and felt the warmth on my face. It was soothing and peaceful. Then I opened my eyes and looked at the engraved stone in our fireplace. It says, "The Lord is my rock."
Amen, amen and amen.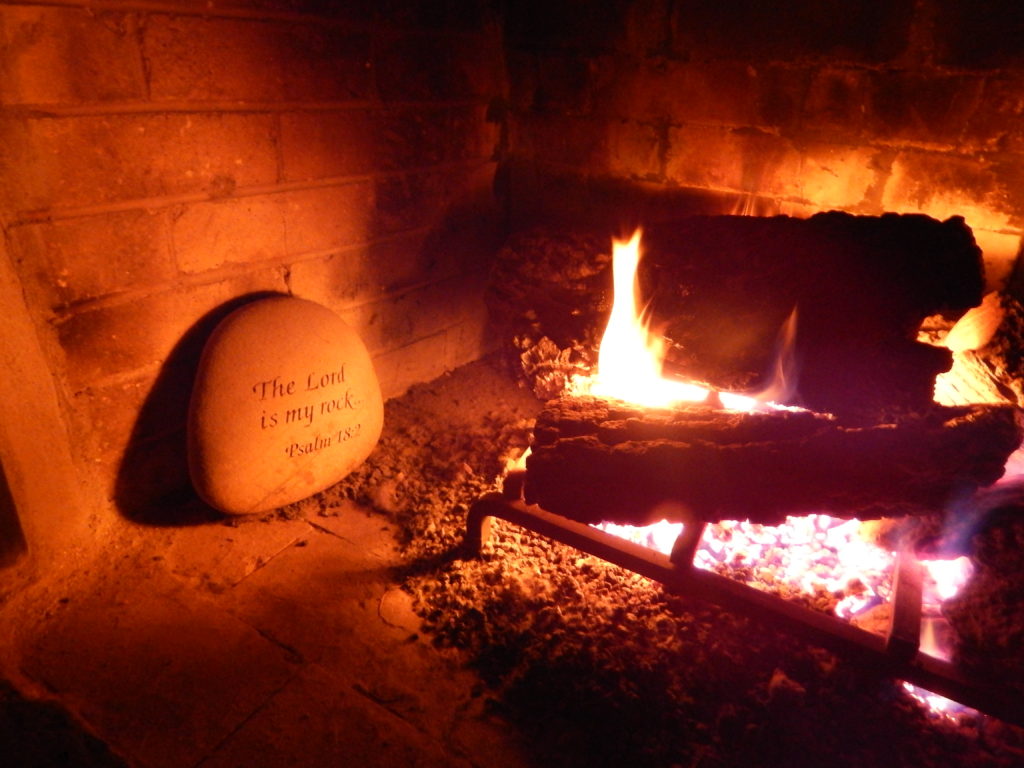 A scripture and a song
I hope this scripture and song will strengthen and encourage you.
Drink in this truth.
Jesus, looking at them, said, "With men it is impossible,
but not with God, for all things are possible with God."
Mark 10:27, World English Bible
This song title says it all: "O Lord, My Rock and My Redeemer" by Sovereign Grace.
Sharing
Peaceful Reader, please share your story about our mighty God in the Comments box below. I'd be honored and blessed to hear what God has done for you.
Do you know people who'd be encouraged by the miracle God did for me? Share it with them.