The giver
If you've ever seen The Sound of Music, you know the song "My Favorite Things."
Close your eyes and think about some of your favorite things. How do you feel when you experience or receive them? Hmmm.
Today on Choosing Peace, you'll read about some of my favorite things—roses, chocolate, the Bible and a red cardinal, among other things. Put on your tennis shoes. We'll be jumping between emotions, journal entries, gifts—and from month to month.
Anger and sadness
As we move through The Season of Grieving, we naturally experience both anger and sadness. The sadness isn't a surprise. Sometimes the anger is. For more about anger, sadness and The Long Good-bye, see this post.
Since my mom died, my emotions have bounced all over the place—happy, sad, mad, glad and then some.
Gifts from God
God has been giving me beautiful, delicious, heartwarming and amazing gifts to help me heal and to show me the depths of his love for me. He is The Giver. He tailors his gifts to the very personal things that bring me joy. God knows that I like chocolate, not caramel. He knows that I like yellow roses, not white roses. He knows that a red cardinal brings me special joy. And he knows why.
He sees me. He knows me. He loves me.
February…
The painting
Three days after my mom died, Linda delivered some of my mom's things to me in the Half Price Books parking lot near Pam, The Almighty's duplex. Remember, I'm not allowed in Pam's house; so Linda and I always meet in this particular parking lot. I received a lovely antique painting. Linda figured it came from our grandparents, but I don't remember ever seeing it before. Did you know that our home is filled with special antiques? Sure 'nuff.
While I was writing the first series on Choosing Peace, Brandon asked me to take down all of his mother's paintings—an important step in removing The Sociopathic Presence from our home. This left what seemed like a gaping hole above our fireplace where a large painting once hung. That space stayed empty for 18 months—until the Lord gave us this beautiful gift. Right when I got home from that little meeting with Linda, I hung our antique painting above our fireplace.
From chains to peace
What a transformation… from (1) a beautiful painting with Sociopathic Strings—I mean You-Owe-Me Chains to (2) nothingness, and finally to (3) a beautiful painting dated January 3, 1878. The subdued colors look perfect in our great room. When I look at this painting, I think peaceful thoughts about home, about God's creation and about sailing. Absolutely perfect. The day I hung it up, I wrote "Smiles galore" in my journal. Yes indeed.
Every good gift and every perfect gift is from above,
coming down from the Father of lights….
James 1:17a, New Heart English Bible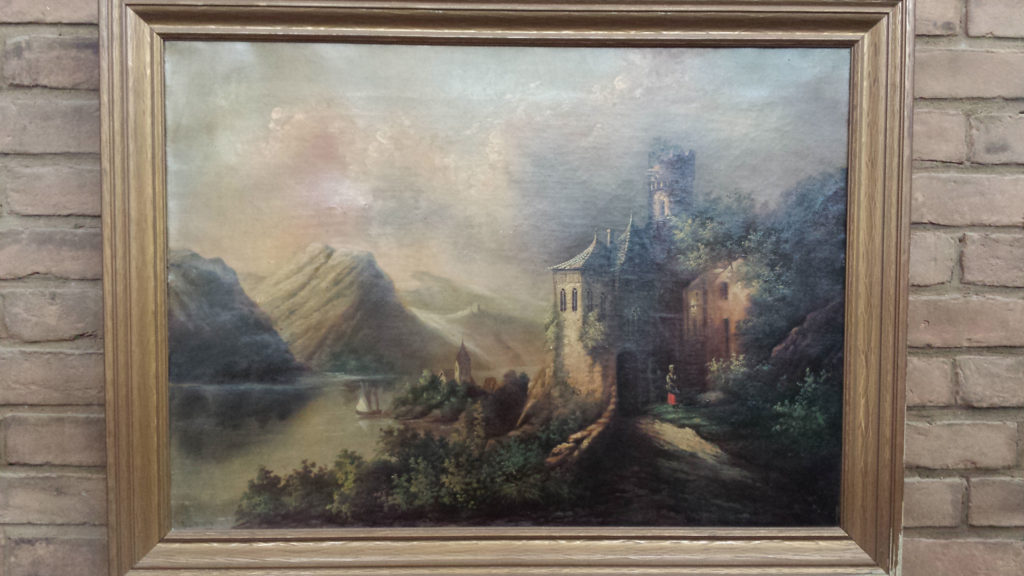 March…
Sailing and singing
While Logan went hiking with some church friends during spring break, Brandon and I spent some time on our boat.
Tuesday, March 13
Journal entry
I invited Meagan to go sailing with us this afternoon…. We enjoyed a lovely afternoon sail, plus blackberries and Oreos. Brandon was a wonderful captain. What a joy to share our boat for the first time—and with a very dear friend. PTL!
Speaking of joy, March was Spring Musical Time at Logan's school. Seeing him be a part of the fun, colorful, energetic production made my heart glow. Did I mention that he got to be a sailor in part of the show? He sure did.
April…
Wrestling with God
The next month, I did some wrestling with God one night.
Wednesday, April 11
Journal entry

I found myself feeling really angry at my mom today.
Logan and I had serious talks Sunday night and tonight about my 3 children in heaven—Sam, Anna and Joshua. He didn't know about Anna, our miscarriage before Joshua. He's feeling sad. He talked with [a friend and a mentor] at church tonight. The song "I Can Only Imagine" is giving him thoughts of heaven and his loved ones who are there.
God gave him a vision of his loved ones in heaven—my mom and dad, [my] dad's parents and Logan's siblings. He said I might be surprised that my parents are there, but I acknowledged that it's good. Logan said he isn't surprised that Grandma's in heaven. He perceived her goodness and felt that she belonged to God. Sweet.
Logan said something very profound: "There are bad parents in heaven and good parents who aren't." I agreed with him. Such wisdom!
I told him what a blessing it was for God to give him this vision, and that it was given to him to give him peace. He agreed….
I had a hard time falling asleep. I thought about Bible characters who loved/served God but were bad parents—David, Aaron, Eli. I told God—in a long fit—that I don't want to be near my parents in heaven. I also told him that I might change my mind later and that he knows best.
The vision and the truth
Let's unpack this journal entry. On this particular day, I was seriously angry at my mom. That same day, our 15-year-old son told me about a powerful spiritual encounter he'd had—his vision about loved ones, ancestors and siblings in heaven. My dad was wearing his Navy uniform. He and my mom were young adults. Logan also spoke a very insightful truth about the fact that not all parents in heaven were good parents.
From anger to peace
His vision helped both of us. It brought him peace—mostly about his siblings. And it ultimately brought me peace about my parents. I'm very, very thankful that he chose to share his vision with me.
Logan's vision was a gift from God,
given to us both for our good—for peace.
During my long, silent fit with God that night—in my mind—I yelled that I don't want my parents to greet me when I arrive at heaven, I don't want to see them, I don't want to have anything to do with them there. I. Went. Off. Big time. For a long time. Interestingly enough, two days later, I indeed changed my mind, like I said I might. Ha. I give God full credit for that quick turnaround—much quicker than I expected.  
Gratitude
Ten days after my wrestling with God freak-out, I ended my daily journal entry with this short paragraph.
Saturday, April 21
Journal entry
I read some of a Jan Karon book that I got from Mom. I thanked her for the Chocolate Chip Coffee Cake recipe and this book. It felt good to thank her. It's a healing time.
Yellow roses
Do you remember the yellow double-bloom rose bush I wrote about in the first series? Beginning in April this year, my one-year-old rose bush exploded with amazing blooms that greeted me every time I went somewhere or came home. Call it a daily Kiss On The Head from Jesus. And I'll be the first to admit—I'm not Holly Horticulturist or even Gertrude the Gardener. My plants get water and sun. The rest is up to God.
Check out this photo.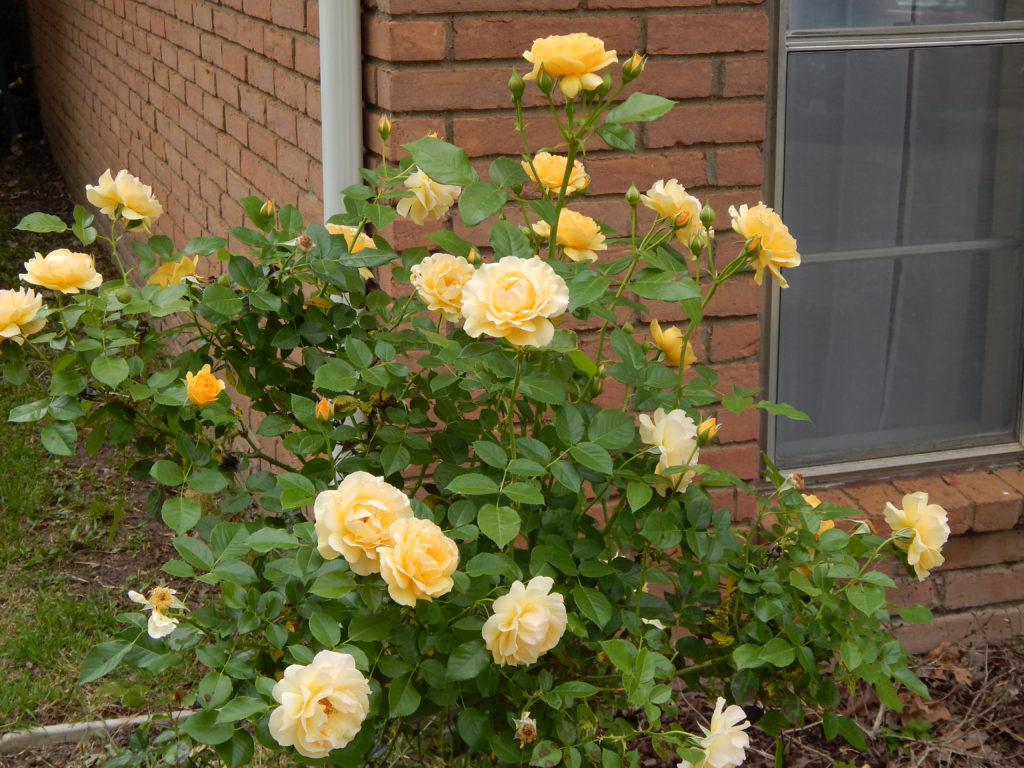 God can do so much more than we can even begin to imagine. That reminds me of the end of my favorite prayer in the Bible.
May…
Forgetting the gift and picking up the stress
The next month, the Holy Spirit gave me something important.
Sunday, May 20
Journal entry
After I read about a dream I had about my younger sibling, a dream that was narrated, the Lord spoke gently in my mind at bedtime—"It is over." Ahhh. Hallelujah!
Unfortunately, I forgot this gift a number of times in the months ahead when Pam, The Almighty was playing her new role, The Executor of The Will. Something about seeing her name in my email inbox or in my list of texts puts me on Red Alert. I guess I'm allergic to lying control freaks; I mean malignant narcissists, like Pam and my mother-in-law.
What can I say…. I kept picking up the stress and then remembering 1 Peter 5:7.
Putting things in the right place
Later in May, three months after my mom died, I took a positive step.
Wednesday, May 30
Journal entry
I'm putting away the books and miscellaneous things from my mom. I had to be emotionally ready to do those things. Now is the time.
I stacked Mom's old Bible and her mom's Bible underneath the 5×7 horizontal photo of the 3 of us (Brandon, Logan and me) that's in our wonderful, glass-front [antique] hutch. The Bibles raise the photo up to an appropriate level and now we're Standing on the promises of God (as the old hymn says). Truly wonderful. It also shows the beauty of a spiritual foundation from one generation to another. God is so good.
June…
Chocolate
Have you ever eaten cake for dinner? I have. One time when Brandon and I went to a neighborhood dive for a date, I ate a big piece of chocolate cake and a glass of milk for dinner. Our waitress said, "I love you." It was so funny.
One evening in June, I asked Brandon to bring me a piece of Chocolate Chip Coffee Cake for dinner while I was writing in bed. Yum. It's one of my mom's recipes that has become a tried-and-true Family Favorite. Did I mention that I totally dig chocolate? Surely I did.
For a few months after my mom died, when I made Chocolate Chip Coffee Cake, Logan would tell me that he liked hers better than mine. I think that was his way of saying, "I miss her." Sweet.
Scripture
For my birthday one year, my friend Summer gave me a devotional book for couples. She's a sweetie.
Wednesday, June 6
Journal entry
I asked Brandon to read to us from our devotional book tonight. He read today's reading and then read yesterday's verse. It is the very [passage] I worked on in my workbook layout today! I told Brandon about it and some of the questions I asked in the workbook about the verses: 1 Thessalonians 5:16-18.
Thank you, Lord, for this encouragement!
Thursday, June 7
Journal entry
A rain blew in. The youth gathering at [the park] was delayed 'til 7…. Logan had a great time, got in the lake, played games. I sat in the car with the windows down. I texted Brandon: "Wish you were here. The breeze is cool and the birds are talking…." It was a lovely, restful time—very unusually comfortable for this time of year. I read some of Patches of Godlight: Father Tim's Favorite Quotes by Jan Karon [—a book I received from my mom's collection]. Very, very good. During this reading, yet again, I read 1 Thessalonians 5:16-18. Again—the encouragement of the Lord!!! TBTG!
When a particular scripture keeps showing up again and again, there's a reason. This short passage tells us what God's will is for us—to rejoice, pray and give thanks "in all circumstances."
In other words, "Even during The Season of Grieving,
receive and enjoy the gifts I've given you,
find the joy in each day, keep talking to me and be thankful."
These choices bring healing. Amen, amen and amen.
The cardinal
I like birds. My special favorite is a red cardinal.
Sunday, June 10
Journal entry
While I was at the kitchen sink, Brandon pointed out the first bird I saw in our new bird feeder tray hanging from our ornamental tree—a beautiful red cardinal! TBTG!!! This is a very special bird to me—our state bird in Virginia, where I grew up.
This cardinal visited our bird feeder regularly and gave me joy every time I saw him. Last month, he paid me a surprise visit one morning. After my reading and journaling this morning, I heard a bird calling and calling. I opened our frosted bathroom window and there was a beautiful red cardinal singing in a nearby tree. What a beautiful blessing from the Lord. He sent my bird to say "I see you, I know you, I'm calling/speaking to you." Thanks be to God!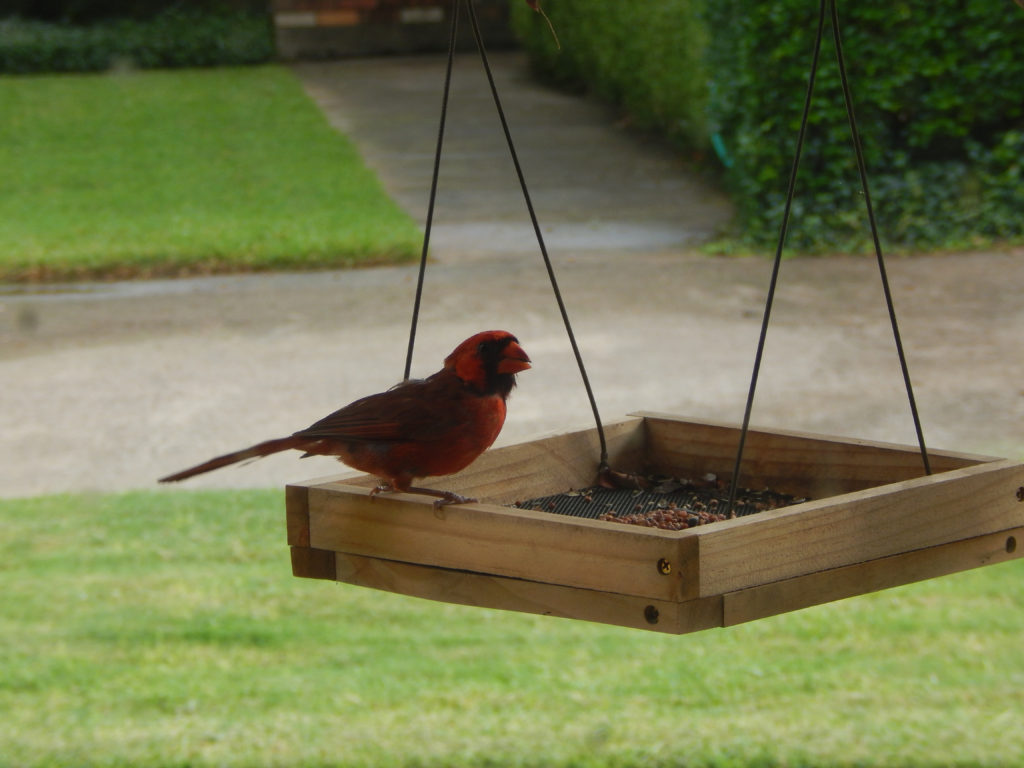 July…
The vacation
While Logan was at youth camp in July, Brandon and I went to Hawaii for our 20th anniversary. If you know Brandon, you know that this is an absolute miracle. Even though he works for American Airlines, he doesn't like to travel, mostly because of family vacations growing up. Well, the company gave each of their employees two round-trip tickets, it was a big anniversary—20 years, Logan was at camp and the rest is history. God made it happen. I could write a whole post on our trip, but I won't bore you with all that.
Bucket List: Swam in a waterfall. Big-time wow.
Bucket List: Went to a luau. Special thanks to my friend Summer for her recommendation—Chief's Luau on Oahu.
What an amazing trip. The beauty of God's creation and the things we experienced filled our hearts with wonder and gratitude.
Receiving the will and the blessings
On a Monday morning in July, I enjoyed a delightful breakfast with Charlene. While we munched on our breakfast favorites, we talked about answered prayer and things to pray about. Later that day, I received a copy of my mom's new will—the one Pam, The Almighty orchestrated the year of The Showdown. I was in total shock.
Wednesday, July 18
Journal entry
I felt very stressed and sad yesterday and today about the will and Pam controlling all that money. I listened to the song "Amen" by I Am They while I was at work (and some of their other songs)….
Catherine emailed me [and asked me] to bring one of the flower vases filled with beautiful red roses/flowers into my office—a great blessing. [My bridal bouquet when Brandon and I got married was a bunch of red roses.]
Friday, July 20
Journal entry
I'm drinking in all the Lord's blessings in these recent weeks to minister to me before and after this stressful will-related time.
♦ Flowers 4 times…
♦ Thank-you note and expressions of love and friendship from Meagan
♦ Hawaii and the joy of reminiscing….
TBTG!!
Brandon's question
Don't think because I haven't mentioned them much that my sociopathic in-laws left us alone this year. Hang-ups. Voice mails. Texts. Yadda, yadda, yadda. And they generously added another new recruit to their campaign—one of Brandon's cousins who never contacted him—until this year.
Wednesday, July 25
Journal entry
[Brandon and I] talked for a long time at bedtime. He's ready to dig into his past and put it behind him. He mentioned the work I did about my parents in the last year. This is amazing!
At one point, he said, "Don't you ever feel lost?" I replied—immediately—"No. I never feel lost because I know who I am, who I belong to and where I'm going." He sat there, drinking that in. The Holy Spirit gets all the credit for those words, and most of all, for that reality.
When I said "…who I belong to and where I'm going," I meant that I belong to Jesus and I'm going to heaven. Where am I going next month or next year? That's up to God.
August…
A day to celebrate
I didn't expect anniversary gifts at work.
Wednesday, August 1
Our 20th Anniversary!
Journal entry
The Lord blessed me mightily today—
(1) Beautiful altar flowers in the nave in my 2 favorite colors—yellow and red.
(2) Sweet Jane Griffin made 2 bracelets for me, using the cross-stitch thread from Mom's big collection, filled with charms and goodies, including a turtle (which reminds me to slow down), an elephant—my favorite zoo animal, a cross—the love of Christ my Savior, and a heart…. So personal and wonderful. I sent her a thank-you email.
Obviously, Jane didn't know that today was my anniversary, but God knew. I love you, God!
Another question
You may remember this part from the Peaceful Closure post: "I knew I still needed to write my Letter of Gratitude to my mom, but I wasn't ready to do that one yet. I was still mad at her."
Friday, August 17
Journal entry
I knelt in the nave near the altar at St. Matt's [—the church where I work]. The Holy Spirit asked me—"What are you getting by holding on to your anger?" It certainly isn't hurting my parents any. It's hurting me and my relationships. I need to lay it down.
More on that next time.
Remembering the blessings
Thanks for joining me today. This post reminds me of A Story of Grieving, part 1, where I wrote about the beauty and power of journaling. "If I hadn't journaled, I wouldn't have remembered more than 90% of those blessings. …Journaling provides a clear timeline and clarity in ways that our own memories can't. And it gives us a way to chronicle our blessings even during the hard times."
I second that emotion.
Coming next: As I walked toward The Big Why, I had unfinished business about my mom. Join me next time as I unpack where my anger came from.
Healing through truth and music
Peaceful Readers, I've found great healing in my life through the beauty and truth of God's word and through music. I hope the truths and songs that I share at the end of each post will bless you too.
Truth from The Word: Psalm 144:15
Song for Healing: When I heard this song at my chiropractor's office, I knew it was the song for this post. It captures the depths of The Giver's love for you and for me. I hope you're moved and blessed by "Reckless Love" by Cory Asbury, as I am.
To hear more about this song and the inspiration of Luke 15, see this live version.