Still
A couple Fridays ago when it was time to go home, we were getting an old-fashioned gully-washer at St. Matt's—the small Anglican church where I work. I opted to hang around until the rain stopped—or at least became gentler. I don't like squishy shoes or soggy feet. Thirty minutes later, I walked out to the Volt with the sun shining overhead. That was amazing, especially since the sky was dark all around. It rained virtually my whole drive home. God gave me a kiss of sunshine to start my drive—and he kept my feet dry.
Sometimes the Holy Spirit tells us to wait. It may just be a 30-minute wait during a thunderstorm. Other times, the Holy Spirit asks us to be still.
Waiting vs. being still
What's the difference between waiting and being still? I think of waiting as a delay—the gap between where I am and where I'd like to be—what I have and what I'd like to have. Sometimes waiting can be about a relationship, health, finances, a spiritual issue, etc. Other times, we wait in traffic or for our turn. We wait for that green light and then we wait to check out at the grocery store. It seems like most of our days include waiting. Sometimes, quite a bit of waiting.
Being still means I'm peaceful and fully present where I am. I'm not thinking about what's coming next or what came before. I'm physically and mentally still, which gives me the opportunity to be spiritually awake, engaged, receptive. In this busy, distracted world, being still eludes most people. If you have small children, it feels like you're rarely still, except when you're falling into bed, exhausted.
The other day, I was still while I was at work. I noticed a pretty bird walking in front of St. Matt's. Then he hopped on the wooden bench and walked around a little before hopping back down and walking toward the garden and the fountain. He looked like he was out for a stroll. I stopped what I was doing to watch him. It was quiet. It was sweet. And I smiled. Being still for a minute during a busy day rejuvenated me.
Seek and find
While you read today's post, think about what the Holy Spirit shows you about himself. Look for the Helper. Listen for the Spirit of truth. Reflect about the Comforter. Think about the power of the Protector. You'll see the Holy Spirit touching our lives—working for our good—with his sovereign and loving hand. I hope all these things encourage you today and in the days ahead.
Never fear, Peaceful Readers. Because this blog is called Choosing Peace, there will not be a pop quiz at the end. But there will be some questions to help you reflect on the Helper, the Spirit of truth, the Comforter and the Protector—different facets of the one-and-only Holy Spirit.
The fall and the blessings
Have you ever experienced something that you considered bad, but then it led you to something good? Or to a string of amazing experiences?
The Holy Spirit blessed me last month in ways I could never have imagined. And it started with an injury on a quiet Friday morning. Actually, it started right before that. While I was checking the building at St. Matt's, I started sweating, even though I wasn't hot. I whined and complained to God about it. I may have even said, "This is ridiculous"—or something to that effect.
A couple minutes later, I was checking one of the restrooms. All was well. I turned off the light and stepped out. Unbeknownst to me, my shoelace looped around the doorstop mounted to the inside of the restroom door. As I was moving forward, suddenly something jerked my left foot out from under me and I found myself catapulting down so fast that my mind didn't have time to switch the scene to Slow Motion Mode. I hit the stone floor first on my right wrist and then—forcibly—on my elbow. Wham. It hurt. A lot. I crawled backwards to unloop my shoelace from the door stop. The wooden door had struck my leg, which was the least of my concerns. Then I wasted time trying to untie the exceedingly-tight knot in my shoelace—eventually realizing that the shoelace was broken. Hmmm. Time to get up off the floor.
Friends and findings
My arm was swelling up and aching. I could only use my left hand, so Sam came up and helped me with a little two-handed project in the office. What a sweetie. And Kathleen, my new mom, came up for our weekly lunch. The Holy Spirit gave me compassion and companionship from Sam and Kathleen to comfort me. I was so thankful. Later, Brandon asked me if I was okay to drive home, and I said yes. I stayed in the slow lane and God parted the waters, so to speak—giving me room in the traffic, safety and some sweet green lights as I approached home.
The next morning, the nurse practitioner at the urgent care clinic suspected that something was broken, given the swelling and my inability to move my elbow. Two X-rays and a few minutes later, we received the good news that nothing was broken and I probably had a torn ligament. The nurse gave me instructions about icing and gently moving my elbow.
Left hand only and an unusual cushion
I quickly learned the do's and don'ts of eating with only my left hand. Some foods can be eaten one-handed; others can't. A sandwich from Jimmy John's? Yes. From Schlotzsky's? No. A hotdog? Yes. A hamburger? No.
Later, I remembered the unusual sweating right before my fall. Are you sitting down? The Holy Spirit flooded my body with extra fluids to cushion the blow and protect my bones. He sure did. Thank you, Holy Spirit, for protecting me. Thank you so, so much.
Whenever I encounter the Lord's protection, I feel overwhelming comfort because I know I'm in his hands. And I rest in the truths of Psalm 91—the chapter of the Bible that I recite every morning. (For more amazing stories about God's protection, see the posts in the Miracles section on the home page.)
Day 1
Sunday was my first full day at home to rest. Heavy sigh.
Sunday, October 23
Journal entry
Meagan, my precious friend, brought us food from Rosa's Café. The three of us enjoyed a lovely lunch in the dining room. I especially appreciated Meagan's prayer for us before we ate. Brandon cleared the table. Then Meagan and I visited about our dear sons. What a sweet time.
…Doing things left-handed, like brushing my teeth, blowing my nose, etc., requires time and focus. Auto-pilot is off. Slow attentiveness is on. I like that. I really do. I can't touch my head or my face with my right hand. Yet. The icing—five or six times a day for 15 minutes—is making a difference. I'm very pleased.
A time to be still
On Monday, the Holy Spirit made it clear that I would be staying home for the week. I woke up with my right hand and lower arm very swollen. Yikes. Thankfully, I had a week of vacation available; so, an unexpected vacation-at-home it was.
Can you imagine seven days of rest at home—without getting in a car, without touching a computer? I can.
And that wasn't the only thing. Each day, from the time I woke up until late afternoon, I didn't touch a remote control. No TV. No music playing.
The Holy Spirit comforted me thru the word, thru truth, thru my family and friends, thru music in my mind, and thru simple pleasures, like food and rain.
I was still—resting, praying, enjoying the Lord's presence.
The song, the verse and favorites
Monday, October 24
Journal entry
The Holy Spirit made it clear to me quite a while ago that I would not be going anywhere on Saturday, October 29. I was invited to two great luncheons that day and declined each one. Now I understand why. I will be on an extreme-rest vacation at home. I am so very thankful.
This morning, the hymn "It Is Well with My Soul" was flowing through my heart and mind. So was the Bible verse, "Be still, and know that I am God." And it rained today. I love rain. What a glorious, quiet, restful, peaceful day….
Our sweet maids, Jose and Elena, came this afternoon. Happy, happy day. While they were here, our doorbell rang. It was Meagan! She brought me a chocolate cake. Wow. I was so thankful. What a wonderful surprise. Later this afternoon, I texted her, "Girrrrrl! That chocolate cake with a cold glass of milk revived me, big-time. Then I took a long, hot shower and put on my favorite flannel PJs. Life is good!"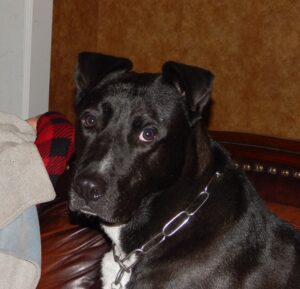 My friends are tremendous blessings. Charlene and I talked for a long time this morning. Floyd sat with me on the couch all day today. What a wonderful, attentive and devoted dog. He's so precious.
Couch-time, a movie and more
Tuesday, October 25
Journal entry
…Charlene brought me lunch from Chick-fil-A—chicken strips and waffle fries. Yum. We ate and yakked on the couch for four hours. It was great. We also enjoyed chocolate cake. I love my Soul Sister.
Brandon and I watched American Underdog tonight, about Kurt Warner and his wife Brenda. Excellent movie. As I was brushing my teeth tonight—left-handed with the electric toothbrush—I was finally able to scoop a good amount of water into my left hand to rinse out my mouth. I'm learning things every day.
Logan called this evening. He dropped his phone in the toilet and was able to laugh about it. He has grown up so much. What a delight to hear his voice.
Quiet and peaceful
Wednesday, October 26
Journal entry
The song "My Portion" by Shane & Shane was on my heart and mind today. "Be still, and know that I am God" remains the verse. Today was very quiet and peaceful. I love this time at home. I [jotted down] some additional notes for my next post, about the comfort of the Holy Spirit. It's going to be filled with journal entries from 2020. The Holy Spirit helps and inspires me. Charlene and I had a good talk on the phone. …Logan texted and asked me how my arm is doing. I gave all the glory to God. Elyse checked on me too.
The hymn, the prayer and God's protection
Thursday, October 27 (part 1)
Journal entry
The old hymn, "What a Friend We Have in Jesus," was on my heart and mind today—especially the phrase Take it to the Lord in prayer. I slept in today. Praise the Lord. I ate banana bread for breakfast and a hotdog with Jimmy John's potato chips for lunch. Mmm. This week is so wonderful for me. Quiet. Slow. Peaceful. Thank you, God.
The Holy Spirit encouraged me to send this text to Logan—Mme. Jordan's prayer from July 2020: "Heavenly Father, may the Smythe family sense your hand guiding them; may they treasure your presence and seek your face. I pray you continue to show your faithfulness. Protect, provide, Lord, and be near! You are our faithful Shepherd, and we are the sheep of your keeping.
"Finally, Lord, may Logan's love for you continue to abound, show him you are directing his path—you are sovereign! In your son's name, Amen."
This evening, Logan called us. He almost killed someone. He was driving on the [Texas A&M] campus when a girl fell off her scooter into the road. Logan slammed on his brakes and barely missed her. She hopped up and got back on her scooter. Logan was shaken. Brandon encouraged Logan about his attentive driving. I talked about how God protected him. I read Madame Jordan's prayer out loud [to us all]. We encouraged Logan to share what just happened with his Bible study group. (He was parked outside the Bible study as we talked.) We told him if he shared this encounter, it would take them to a deeper place with each other. Later this evening, I texted my dear son, "God's hand is on you, Logan. Lean in close. Talk, talk some more, and never stop." I prayed for Logan again and again, and I thanked the Lord for protecting him.
(For more about Madame Jordan and her prayer, see part 5.)
The power of three
(1) I was unexpectedly home this particular week, so…
(2) I was scribbling notes on a print-out of my last post—which contained the prayer, and
(3) The Holy Spirit gave me an assignment to text the prayer to our son.
The Holy Spirit's power and the power of prayer
can come into focus when we receive and lift up written prayers.
Madame Jordan's prayer didn't only impact us when I received it. This prayer has blessed us at least three times—in July 2020 (on Pam, The Almighty's birthday), in November 2020 (on my dad's birthday) and in October 2022—when Logan was protected from a terrible accident. Logan said he would've had to talk to the police if he'd run over the young lady. He knew it would've been life-changing in an extremely traumatic way. And he knew God protected him.
The Holy Spirit called on me to send Madame Jordan's prayer to Logan. Her prayer went up to the Lord as I read, texted and read it again. Every time I read her prayer—"Protect, provide, Lord, and be near!"—it was lifted up to God. Again and again.
On this important day, the Holy Spirit gave me a hymn with this phrase:
"Take it to the Lord in prayer."
Written prayers
When the Holy Spirit brings someone to your mind—someone you need to pray for—sometimes he's also calling you to write and send that person your prayer. Your note and prayer may become a special bookmark or a bedside treasure. Madame Jordan's prayer card became my bookmark for Psalm 91—an incredible book about The Protection Psalm. I read her card many times—"Protect, provide, Lord, and be near!"—while I was reading the book about God's protection. Her card punctuated the powerful message of the book and made it more personal. I give Psalm 91 away frequently. Three of the cards in my Bible are from friends, thanking me for Psalm 91.
Building faith
When you're praying for something specific for someone, sometimes it's important to text or write a card to let that person know. Not always, but sometimes. Ask the Holy Spirit to guide you. When you write your prayer and God answers it, this tangible answered prayer can help build your friend's faith. Sometimes it gives a powerful encounter with God.
Through the centuries
God also uses prayers written in the past to bless, help and heal people today. Consider Paul's prayer for the Ephesians, my favorite prayer in the Bible. How many people through the centuries have read and lifted up this prayer and received strength, faith, comfort, power and more?
Today's example
This recent thank-you card gives us a great example of a prayer written years ago that impacts lives when it's read or spoken today. And the front of the card says it all.
Dear Prayer Shawl Members,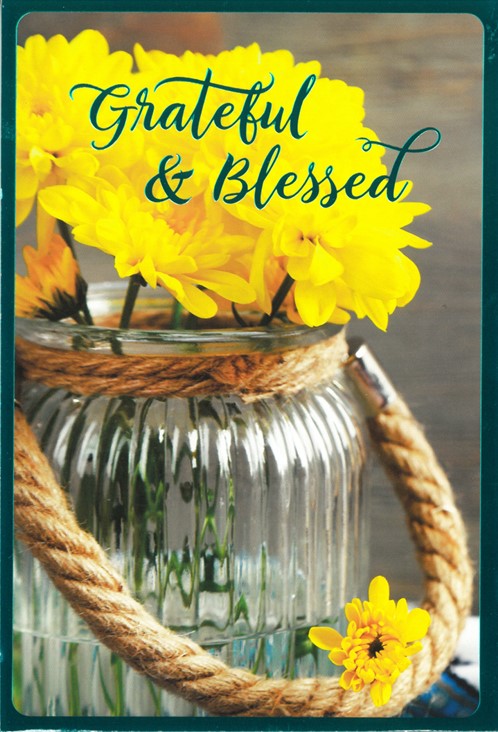 …My friend, Ruth, brought me a [prayer] shawl as I was recovering from a broken femur and needing much prayer learning to walk again! Jesus is my healer. Praise the Lord!
God showed me a wonderful miracle as I was reading the St. Matt's pamphlet on "Healing Prayers and Scriptures"!!
…Again, thank you to all your Prayer Shawl members and may the Lord continue to bless your outreach.
Finishing strong,
Mae
As Mae read the prayers in a brochure, God showed her a miracle. That makes me smile.
More stillness
Let's wrap up the journal entries from my Seven Days of Stillness.
The number three—again
Thursday, October 27 (part 2)
Journal entry
…My arm is getting better every day. This morning, I read Matthew 3, about John the Baptist and Jesus' baptism. [My Bible reading included] the word Jordan—the name I chose for [Logan's French teacher] in my blog. God's hand is on me. Holy Spirit, I love you.
That reminds me of the Three Things section in part 1. If you missed that post about the Helper—one of the names for the Holy Spirit—check it out.
Simple pleasures
Friday, October 28
Journal entry
It rained today. Hallelujah and praise the Lord! I love the sound of rain. So peaceful and refreshing. This afternoon, I thought of the hymn, "There Shall Be Showers of Blessing."
…I heated chicken parmesan for dinner. Very good. We played a game of Farkle. I learned how to roll the dice using the cup left-handed. Brandon asked me to let him win. I said no. He won fair and square.
Day 7
Saturday, October 29
Journal entry
I woke up thinking of the song "Lean on the Lord" by Ryan Ellis. Yes, indeed. What a wonderful, unexpected, rejuvenating vacation this has been. Quiet, restful, simple, filled with prayer and gratitude. Friends, good food, smiles. Blankets, dogs, flannel PJs. Rain, naps, my Bible. Holy Spirit, you are so good to me. I love you! Right now, I'm sitting on the couch, talking to God and listening to Floyd snore. The speed of my life is still. Mmm.
During my week at home, I often glanced up from my perch on the couch at the very tall, very old piece of furniture beside me. I reminisced about our family and the books I read to Logan when he was little. Most of all, I looked toward the top—to a sweet children's book that says the three most important words of all: God Loves Me.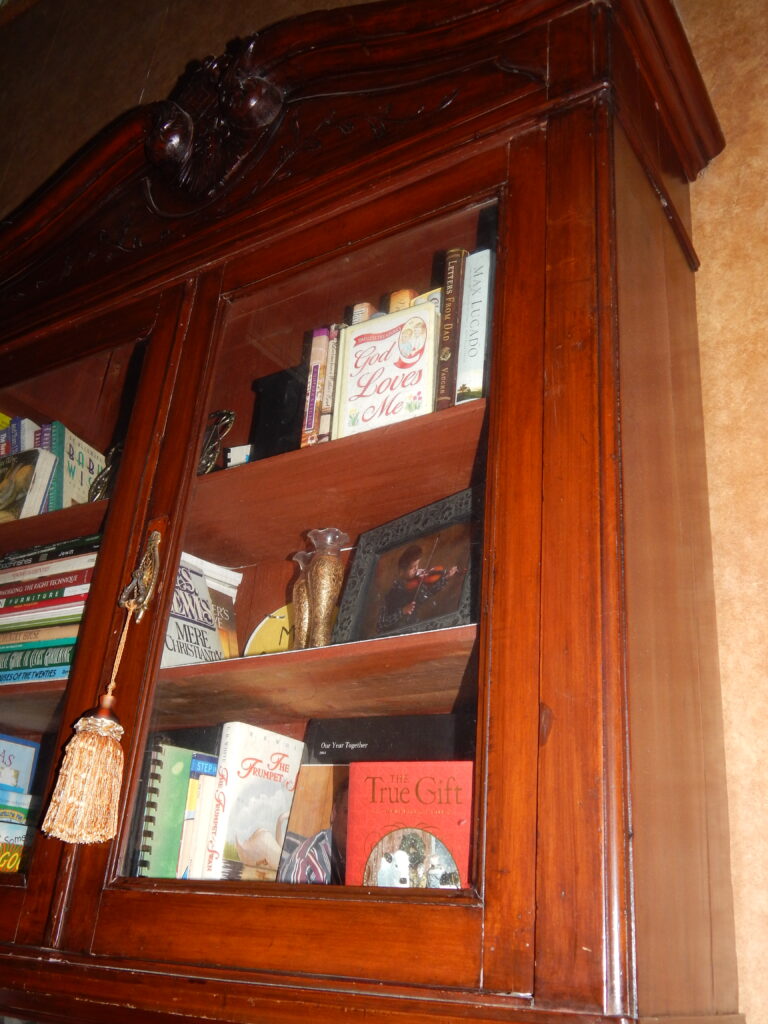 Your turn
Are you hungry for some Still Time in your life? Think about when, where and how you might snag some—even for just 10 or 15 minutes. Use that time to rest your mind and pray.
As you think about today's post, what stood out to you about the different aspects of the Holy Spirit? Where did you see the Helper? When did you hear the Spirit of truth? Was your heart warmed by the Comforter and how personal he is? How did you feel about the power of the Protector?
Is the Holy Spirit asking you to journal about something—to reflect on a chapter from your life—to thank him for the amazing thing he did—to lay something down and forgive someone—maybe yourself? Follow where he leads. Pick up your pen and follow….
Coming next: Will the Holy Spirit post have a part 7? I wonder. He'll show me—all in due time.
Thank you for joining me here on Choosing Peace—and Happy Thanksgiving to you all.
Now may the Lord of peace himself give you peace at all times in all ways.
The Lord be with you all.
2 Thessalonians 3:16, New Heart English Bible
Healing through truth and music
Peaceful Readers, I've found great healing in my life through the beauty and truth of God's word and through music. I hope the truths and songs that I share at the end of each post will bless you too.
Truth from The Word: Matthew 7:24-27
Song for Healing: Be blessed and strengthened by the powerful words of this wonderful old hymn, "How Firm a Foundation," brought to us by Sovereign Grace Music.